Tell Mississippi Legislature to Amend HB 942
Support Rural Broadband NOW.
Rep. Scott Bounds, chairman of the House Public Utilities Committee, has said HB 942 is "to get broadband to those who don't have it." Unfortunately, this bill doesn't do that, but it CAN be fixed.
The problem is that HB 942 includes restrictions that would actually limit broadband expansion. According to Microsoft, there are 2.4 million Mississippians not using broadband. Why? Because cable companies refused to provide it. HB 942 PROTECTS internet COMPANIES who won't provide service and STOPS other providers from delivering broadband services that rural Mississippi deserves.
2.4 Million Mississippians Live Without Broadband. HB 942 Won't Give it to Them.
Members of the Mississippi House of Representative can change the future of Mississippi by amending this bill, HB 942. Amend this bill and expand broadband to 2.4 million rural Mississippians.
Call your Representative NOW. Urge them to stand with rural Mississippians and change HB 942.
Make your voice heard now!
Call your legislator in Jackson, Legislative Switchboard: (601) 359-3770.
With the support of the Mississippi House, rural Mississippi can get the high-speed internet it needs to create jobs, enhance long-distance learning, and deliver the telemedicine our seniors need.
There's a Choice: SB 2798 Provides Broadband to Everyone
Another piece of legislation before the Mississippi Legislature DOES solve the state's broadband problem. SB 2798 opens broadband to 2.4 million Mississippians. Sponsored by Sen. Joel Carter, SB 2798 allows competition among providers and creates no barriers to service. If enacted, broadband service will expand throughout every part of Mississippi. And it may even lead to lower costs for Mississippi consumers. SB 2798 just passed in the Mississippi Senate.
More competition. Statewide broadband service. Lower costs. That's what SB 2798 does.
There are many similarities between SB 2798 and HB 942, but only one of them – the Senate version – will expand broadband in rural Mississippi to all of the 2.4 million Mississippians who aren't using it.
Both bills would allow rural electric co-ops and other third-party providers to use the fiber being installed by the major utilities to provide broadband services to rural areas.
The legislation proposed by both the Senate and House bills prohibits the major utilities from making a dime of profit from the use of their fiber.
But here is the critical difference between the bills: the Senate bill, sponsored by Sen. Carter, would fully open up service to about 2.4 million Mississippians while the House bill includes restrictions that would actually limit broadband expansion. These restrictions limit opportunities in economic development, healthcare, and education for rural Mississippi.
SB 2798 EXPANDS broadband service. HB 942 RESTRICTS broadband service.
Importance of Broadband
Broadband access is about jobs. It's about our schools and our kids. It's about better healthcare for our families. It's about keeping in touch with friends and loved ones. And it's about convenience and support for our seniors.
Access to broadband is an important economic development tool, and without broadband, companies, and businesses are reluctant to locate in rural areas.
Rural Mississippi must attract new jobs and economic development to grow and prosper, and expanded broadband service is critical to achieving that goal.
The COVID-19 virus has also shown the critical role broadband plays in dealing with this once-in-a-lifetime pandemic.
Broadband is needed for:
Home learning and distance learning
Telemedicine
Access to online pharmacies
Access to online groceries, good, and essentials
The Problem
Mississippi ranks among the top ten worst states in the nation in state broadband access.
Nearly 2.4 million Mississippians aren't using the internet at the FCC broadband standard of 25/3.
Another 236,000 people only have access to one provider at their place of residence, trapping many with poor service and no options to do anything about it.
A Problem of Access
The state suffers from a severe lack of access. This lack of access is especially serious now, as many Mississippians are accessing critical services – education, healthcare, etc. – through web-based platforms.
While FCC's reports claim only about 620,000 Mississippians lack access to broadband, real-life data from Microsoft says that nearly 2.4 million Mississippians aren't using the internet at 25/3 speeds. Our lawmakers should do everything possible to ensure that Mississippians have access to high-speed broadband without unnecessary restrictions.
A 2019 study by Microsoft, in fact, shows the incredible disparity between reported broadband availability in Mississippi and actual usage. The study, which looks at real-life download speeds of connected devices, found that many Mississippi counties, particularly rural counties and those with low per capita incomes, often have single-digit percentages of individuals connected at the FCC standard of 25/3 Mbps.
Below is a map where you can find the actual broadband access calculated by Microsoft.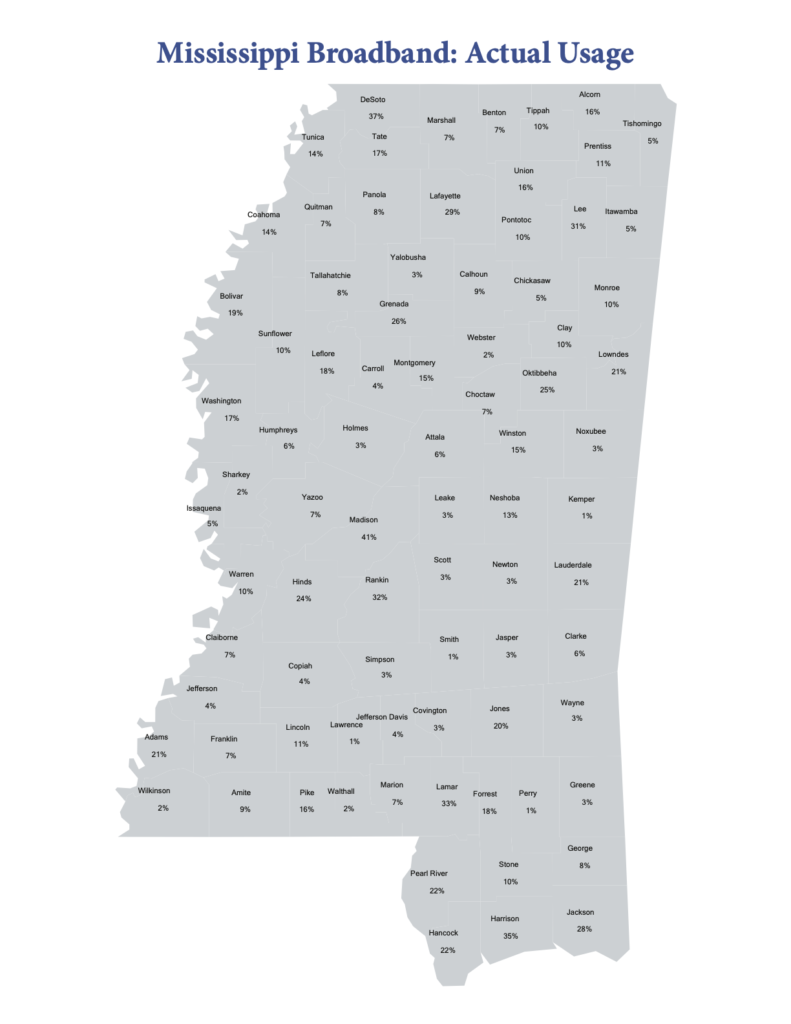 What Can Be Done?
There is an easy solution: use existing fiber from all of the state's investor-owned electric utilities to deliver high-speed internet immediately to rural Mississippi.
All the utilities need to do is lease their fiber to third party internet providers.
Any profits made by the utilities from their fiber usage goes to reduce your utility rates.
The Solution
Amend HB 942 and Expand Mississippi Broadband.
Only YOU Can Make This Happen. Act Now
The fate of House Bill 942 is in the hands of the Mississippi House of Representatives.
Call Your Representative. Support Rural Broadband NOW.